Digital transformation lifecycle - Motilia Tech
The digital transformation lifecycle
Digital transformation is a journey that includes many steps, from evolutionary to disruptive ones. Typically, these steps consist of the following three phases.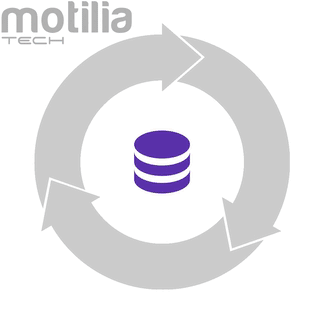 The first phase of your journey is the gearing up through the implementation of digital initiatives, aimed to make your IT environment more flexible et increase your employee efficiency and satisfaction. Here again, the objective is not to change your environment by a big bang, but to make it evolve gradually, through manageable steps and with great chances of success.
This step functionally enriches your IT environment without jeopardising its technical architecture. You can assess its impact with appropriate performance indicators in the fields of user satisfaction and business operational performance.
The second phase consists of simplifying and optimizing the existing processes. The digital tools are then used to streamline your business growth.
In this context, analogical processes are gradually being replaced by digital processes, with the support of new tools. At the same time, your IT infrastructure is re-architectured to meet the needs of today and tomorrow.
New opportunities handling
This phase is committed to the use of digital tools to interact and sell to prospects and customers, and internally, new tools are used to build predictive analytics and understand your needs. The purpose is the discovering of new sources of growth, from new products, services to business models.
The performance indicators that could guide entreprises relate to the reduction of customer acquisition costs, or the improvement of customer service.
Depending on the context of your organization, the initial cycle and the number of cycles required for the implementation of your digital transformation depends on the maturity of your organization, in terms of project management and mastery of new digital tools.
Our Motilia Tech environment allows organizations to start their kick-off without loss of time and without significant investment: first our gateway application should be installed on a server, our client app on mobile devices and the data to be made accessible in a buffer database. Then they simply configure their solutions, without the need for programming, compilation and distribution on mobile devices.
Regarding the following phases, they just need to update the implemented settings, or to configure new solutions. And still without need for programming or compilation of mobile applications. Thanks to these features, our environment gives organizations unparalleled efficiency to achieve their objectives as part of their digital transformation projects.