Data-Driven Solutions - Motilia Tech
The Motilia Tech platform allows organizations to make available to users their business information where they are and at the right time, through the convivial interface they are used to. The resulting solutions are data-driven applications, that allow users to browse their data and to persist any change in a database.
Your business data in the palm of your hand
The business data of a user are generally bounded by a perimeter. For example, for a salesman, the perimeter may be a geographical sector, or a field of activity. For a logistics officer, it can be represented by the list of customers of the day to be delivered on a day. Or the entire organization for the management team.
The solutions built with the Motilia Tech platform allow each user to browse (and enrich) the data within his perimeter, following previously configured analytical axes. From a mobile device, with the relevant interface.
The Motilia Tech platform apply on a priority basis the Zero Trust security principe. Its application to mobile devices has the fundamental consequence that no information is saved in device memory. As a result, all informations are read from and written to the buffer database interactively. Thanks to 4G and later technologies, it should be noted that the latency linked to data exchanges is not noticeable by users.
Solution configuration with data requests
With Motilia Tech, a data-driven solution can be seen as an application associating user interactions with data requests, in the context of each user. Our technology makes it possible to simplify the application configuration as much as possible, which mainly consists in providing the data requests to the buffer database, in the context of each user class.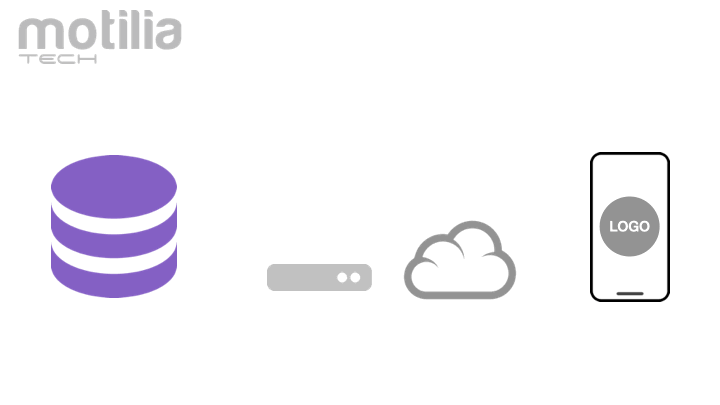 1.Browse
The data browsing is configured from one or more select queries to the buffer database.
2.Read and check
A business data can be displayed as a form, for reviewing or modification, without any programming.
3.Enrich
When adding or modifying, a parameterized request of type insert or update is sent to the buffer database.
In a traditional application, the requests required to read and persist data are embedded in the code. With regards to the Motilia Tech environment, the requests are integrated in the configuration using our breakthrough technology.
With Motilia Tech, the client organization has the total control of its information, and the location of its buffer database in particular. On the one hand, it defines the data model (or schema) made available to the platform, and on the other, it implements the data synchronization mechanisms with its internal teams.
The data model can be a subset of that of the data used in operation, or an aggregation of several organization databases.